Bed and breakfast var
Room Indigo (2 people) -La  Suite   Indigo  (4 people)
We have the Bohemian Room (from 1 to 3 persons) and the Indigo Suite (from 1 to 4 persons)
We are very proud that Figaro magazine has selected us for its review of the 150 most beautiful guest houses in France in 2021.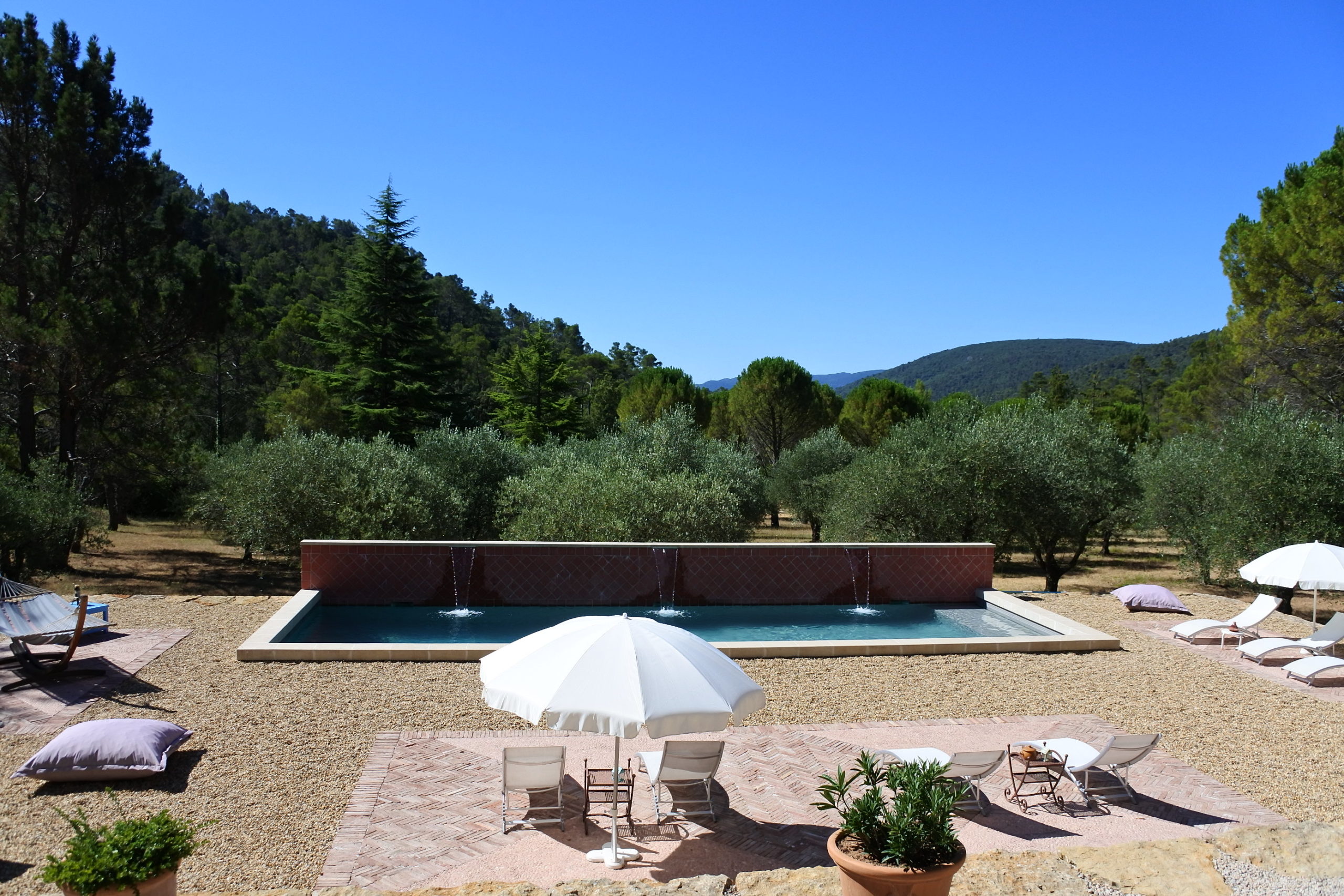 Voici les détails de la Suite Indigo : 
The Suite l'Indigo, has 2 bedrooms and a bathroom (with toilet), it can be reserved for up to 4 people.
The large guest room: L'Indigo (a queen size bed)
The small guest room: The small Indigo (a standard double bed)
The suite immerses you in a range of blue: turquoise, marine, indigo, and invites you to serenity, the present moment and calm.
Each guest room has a terrace with stunning views over a park of two hectares with olive trees and pine trees.
Each room has its own private entrance.
You can of course enjoy the pool. It is heated from May to the end of September. At your disposal: plancha and tables all around the Bastide.
Since 2018 :
 A large fully equipped kitchen (induction hob, fridge, coffee machine, toaster, bread maker…)
A dining room, a lounge and a small fitness room are accessible to all guests of the Bastide (7 people maximum).
Equipments  guesthouse : TV accès satellite (only in the room Indigo), internet access (wifi), hair dryer, kettle.
Price of the room Indigo and the Suite Indigo.
Per night for 2 people (Breakfasts included) :
Low season                                                                                :  120 euros
High season     (June, July, August and September)             :  140 euros
For a reserved week, you get a 10% discount (except july and august)
The city tax is 0.75€ per night per person.
Per night for 4 people (Breakfasts included) :
low season                                                                                         : 240 euros
High season    (June, July, August and September)                       : 280 euros
Reception of our guest rooms
We are pleased to welcome you from 17h and ask you to clear the room at 11h.
(Depending on the reservations, we remain flexible on these times in order to extend your stay, please contact us the day before.)
Cancellations of your stay and refund of deposit
In case of cancellation 30 days or more before the date of stay, the entire deposit will be returned to you.
We keep the deposit (except in case of COVID-related lockdown), in the case of a cancellation between d 7 and d 29 before the date of stay
We will ask you for the total payment of the stay in the case of a cancellation made less than eight days before the scheduled arrival date.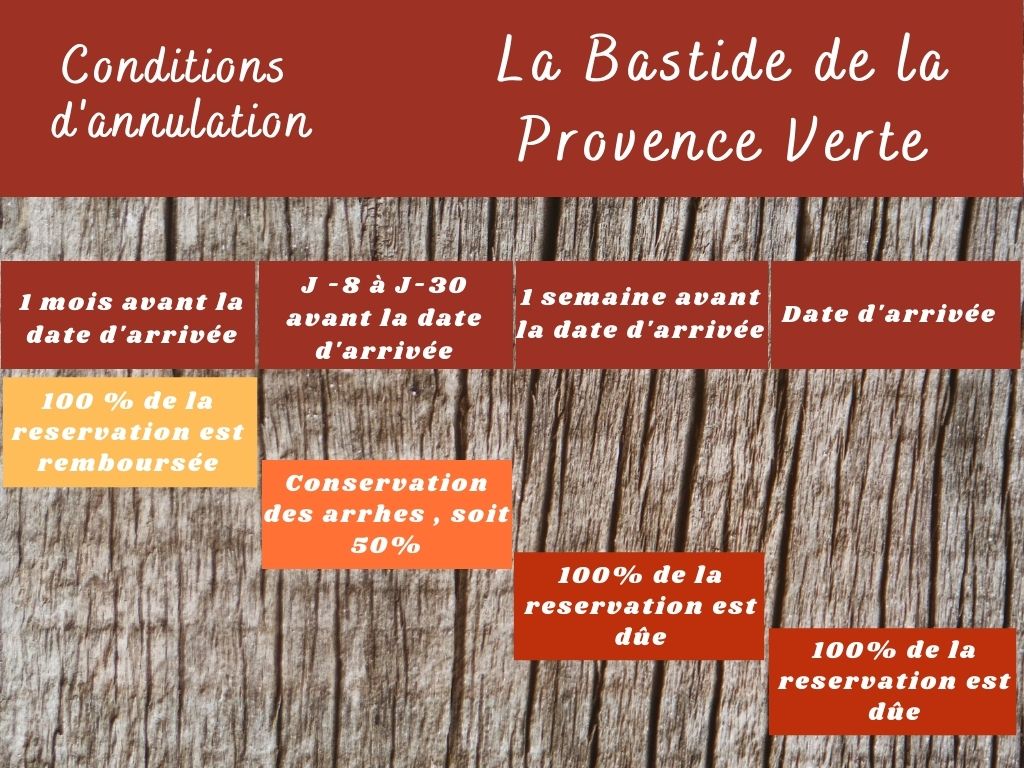 Merci de nous contacter au 06 70 31 18 01   for all cancellations as well as by email to: labastide@yahoo.com
Respect, Friendliness and Security for the good of all
Notre concept de chambre d'hôtes :
♦ We have taken meticulous care to decorate these guest rooms in order to make them soothing, warm and cozy places. Please take care of each object and thank you for your kindness.
♦La Bastide de la Provence Verte
Il est strictement interdit de fumer dans les chambres d'hôtes.
is in the middle of a natural area, we ask you to be more vigilant about the fire, especially with regard to cigarettes. You have ashtrays at your disposal on every table and rest areas, please use them and do not throw anything on the ground.
♦ We ask you to pay special attention to the toilets, this is a sanibroyeur and it is strictly forbidden to throw anything other than toilet paper. You have a trash can for everything that is female protections or other, thank you for using it. A deposit of 500 euros (in case of repair) is requested on arrival. It will be returned to you at your departure, after verification.
          Thank you for your understanding and enjoy your stay   !